About Us
LIVING AT HOME: Your Goal, Our Priority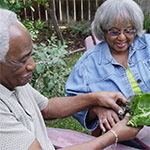 PACE is a program that allows older adults who need nursing home care to continue living in their homes as long as possible.
National PACE Association (NPA) provides leadership and support for the growth, innovation, quality and success of the PACE model of care.
Since 1994, NPA has represented the interests of programs of all-inclusive care for the elderly in a rapidly changing health care environment.
In the near future, through our 2022-2025 strategic plan, NPA will encourage and support responsible PACE growth through advocacy, quality and workforce initiatives, with a steadfast commitment to diversity, equity and inclusion in all that we do.

Learn More About our Commitment to DEI
Advocacy
Educational offerings
Information and data
Technical assistance
Networking
in support of PACE sustainability and growth through appropriate payment, regulation and innovation policies
that support the efficiency, effectiveness and success of PACE programs
that allow PACE programs to understand and respond appropriately to opportunities and challenges
with operational, financial, regulatory, policy, data analysis and quality improvement issues and activities
among PACE professionals on effective and innovative strategies, operations and practice
History
The PACE model of care can be traced to the early 1970s, when the Chinatown-North Beach community of San Francisco saw the pressing needs for long-term care services by families whose elders had immigrated from Italy, China and the Philippines. William Gee, DDS, a public health dentist, headed the committee that hired Marie-Louise Ansak in 1971 to investigate solutions. Along with other community leaders, they formed a nonprofit corporation called On Lok Senior Health Services to create a community-based system of care. On Lok is Cantonese for "peaceful, happy abode."
There are 155 PACE organizations operating in 32 states and the District of Columbia. More than 300 PACE centers serve more than 71,000 participants across the country.