COVID Data Demonstrate PACE Model Is Safer Than Nursing Home Care
Posted on: February 2, 2021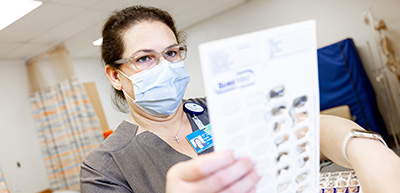 WASHINGTON, DC – The COVID-19 pandemic has demonstrated that Programs of All-Inclusive Care for the Elderly (PACE), with their focus on keeping participants at home and in the community, are safer than nursing home care. The rate that PACE enrollees have contracted the virus or died as a result of it is one-third the rate of nursing home residents, according to the National PACE Association (NPA).
During the pandemic, the PACE model has demonstrated resiliency and increased future potential by continuing to provide all of the care and services necessary keep participants safe in the community. In response to COVID-19, PACE programs substantially and swiftly have transformed to continue to meet all of the care and service needs of their participants:
maintained home-based services for participants and shifted provision of most center-based services to participants' homes to minimize the risk of infection and protect them from COVID-19 complications,
expanded use of telehealth,
redeployed center-based staff,
used mobile health vans,
provided social supports and socialization, and
repurposed PACE centers for overnight and respite care.
What Is PACE?
PACE is a wholly integrated, coordinated, person-centered, provider-led, capitated and fully risk-bearing model of care. Driven by the objective of maintaining the independence of program participants in their homes and communities for as long as possible, PACE programs are the lifelines that enable frail, older Americans to live at home instead of in a nursing facility. Most participants (95 percent) are able to continue to live in their home and community.
A total of 139 organizations operate PACE programs in 31 states across the country. More than 55,000 people are enrolled in PACE. Enrollees are age 55 and over and meet their state definition of needing nursing home care. PACE organizations serve approximately one in 10 of those that could benefit from their care in the community. Of the 2.2 million lower-income older adults estimated to need long-term services and supports (LTSS), PACE organizations serve just an estimated 2.5 percent.
PACE was proved safer and more cost-effective even prior to the pandemic:
PACE employs strong financial incentives for PACE organizations to avoid duplicative or unnecessary services while encouraging the use of appropriate community-based alternatives to hospital and nursing home care. Care decisions are made by providers through an interdisciplinary care team in consultation with participants and their family. This approach empowers the PACE model of care to achieve better care, improved patient experience and lower costs.

Better care leads to lower costs:

13 percent less than state Medicaid programs and comparable Medicare costs,
24 percent lower hospitalization rate than dually eligible beneficiaries who receive Medicaid nursing home services,1,2
16 percent lower rehospitalization rate than the national rate of 22.9 percent for dually eligible beneficiaries age 65 and over,3
less than one emergency room visit per member per year than similar individuals living in the community,4,5 and
fewer nursing home admissions than those with similar care needs despite being at a nursing home level of care upon enrollment.6
PACE participants have fewer unmet needs and receive better preventive care than seniors in the community, specifically with respect to hearing and vision screenings.7
PACE incorporates many of the reforms the Medicare program seeks to promote, including person-centered care that is delivered and coordinated by a provider-based, comprehensive system, with financial incentives aligned to promote quality and cost-effectiveness through capitated financing.
PACE provides care to older Americans in the home, which is their preferred environment. Eighty-six percent of people age 65 and over would prefer to remain in their home for as long as they can, according to an AARP survey.
In the coming years, PACE and other nursing home alternatives will be in great demand to meet the needs of Medicare and Medicaid beneficiaries and others.
1. National PACE Association. (2017). NPA Analysis of PACE Upper Payment Limits and Capitation Rates. March.
2. Mathematica Policy Research. (2014). Effect of PACE on Costs, Nursing Home Admissions and Mortality: 2006-2011. Evaluation prepared for U.S. Department of Health and Human Services (HHS), Office of the Assistant Secretary for Planning and Evaluation, Office of Disability, Aging and Long-Term Care Policy.
3. Segelman, M., Szydlowski, J., Kinosian, B., et al. (2014). Hospitalizations in the Program of All-Inclusive Care for the Elderly. Journal of the American Geriatrics Society, 62: 320-24.
4. Division of Health Care Finance and Policy, Executive Office of Elder Affairs. (2005). PACE Evaluation Summary. Accessed online on May 25, 2011.
5. Kane, R.L., Homyak, P., Bershadsky, B., et al. (2006). Variations on a theme called PACE. Journal of Gerontology Series A, 61 (7): 689-93.
6. Friedman, S., Steinwachs, D., Rathouz, P., et al. (2009). Characteristics predicting nursing home admission in the Program of All-Inclusive Care for Elderly People. Gerontologist, 45 (2): 157-66.
7. Leavitt, M. (2009). Interim report to Congress. Equality and cost of the Program of All-Inclusive Care for the Elderly. Mathematica Policy Research Evaluation prepared for the HHS secretary for submission to Congress.