U.S. Rep. John Moolenaar Visits Program of All-Inclusive Care for the Elderly
December 30, 2022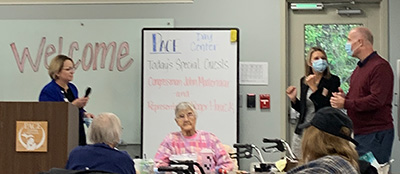 WASHINGTON, DC – NOV. 8, 2022 – U.S. Rep. John Moolenaar (R-MI-4) recently met with administrators and seniors during a visit to the Program of All-Inclusive Care for the Elderly (PACE) of Central Michigan in Mt. Pleasant, MI. Earlier this month, the congressman introduced the PACE Expanded Act, which will improve care for Michigan seniors.
PACE provides comprehensive medical and social services to seniors and individuals with disabilities that enables them to live in their homes and communities rather than receiving care in an institutional setting. PACE participants receive primary care, long-term care services and supports (LTSS), medications, therapies, behavioral health services, meals and socialization in their homes and at their local PACE center. Each participant's health care, nutrition, transportation and other needs are identified by a dedicated care team.
"PACE provides outstanding support for Michigan seniors, and I appreciated the opportunity to see that in person," said Rep. Moolenaar. "In Congress I have been working to help Michigan seniors have the options they want for their care. The PACE Expanded Act that I introduced earlier this month will make it easier for more seniors to receive the care they want in the comfort of their own home."
The PACE Expanded Act would help to increase the growth of current PACE organizations and facilitate the development of new ones by alleviating bureaucratic burdens experienced by PACE programs applying to the Centers for Medicare & Medicaid Services (CMS) to increase their capacities or expand service areas. The legislation would increase the affordability of PACE for Medicare-only beneficiaries, allow for the PACE model of care to be tested with new patient populations, and enable older adults to enroll in the program at any time.
A recent New York Times article reported that PACE is succeeding in allowing older Americans to age in place.
PACE is a "high performer" among integrated care models, according to an analysis by the Office of the Assistant Secretary for Planning and Evaluation in the Office of Behavioral Health, Disability and Aging Policy at the U.S. Department of Health and Human Services (HHS). The study found that "full-benefit, dual-eligible beneficiaries in PACE are significantly less likely to be hospitalized, to visit the emergency department, or to be institutionalized" compared to the control group.
The findings were highlighted in a Bipartisan Policy Center report titled "Improving Access to and Enrollment in Programs of All-Inclusive Care for the Elderly (PACE)." The report contains several of the recommendations included in the PACE Expanded Act. Mary Nabor, president and CEO of PACE Southeast Michigan and a member of the National PACE Association Board of Directors, participated in the release of the report.
#
The National PACE Association (NPA) works to advance the efforts of PACE programs, which coordinate and provide preventive, primary, acute and long-term care services so older individuals can continue living in the community. The PACE model of care is centered on the belief that it is better for the well-being of seniors with chronic care needs and their families to be served in the community whenever possible. For more information, visit www.NPAonline.org and follow @TweetNPA.
Contact: 
David Harrison 
410-804-1728 
The National PACE Association (NPA) works to advance the efforts of PACE programs, which coordinate and provide preventive, primary, acute and long-term care services so older individuals can continue living in the community. The PACE model of care is centered on the belief that it is better for the well-being of seniors with chronic care needs and their families to be served in the community whenever possible. For more information, visit
www.npaonline.org
and follow
@TweetNPA