Sen. Ron Wyden and Rep. Lily Morgan Visit AllCare PACE
April 14, 2023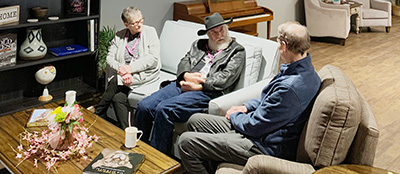 GRANTS PASS, OR – APRIL 14, 2023 – U.S. Sen. Ron Wyden (D-OR) this week visited AllCare PACE, the newest Program of All-Inclusive Care for the Elderly in the state. Oregon State Rep. Lily Morgan (R-Grants Pass), accompanied Sen. Wyden in touring the PACE center and meeting seniors enrolled in PACE, as well as the AllCare Health team members who provide the care and services that enable them to remain living at home rather than in a nursing facility.
"Dollar for dollar, PACE is the best care possible," said Sen. Wyden. "Given the demographics of so many people becoming 65 every day, it is not a debatable proposition that more services, such as PACE, are needed for seniors." The chair of the Senate Finance Committee acknowledged the notable barrier keeping Medicare-only eligible elders out of PACE – the high cost of the PACE Part D prescription plan for those seniors – a limitation he called "an absurd issue that cries out for a remedy."
NPA urges Congress to pass the remedy – the PACE Part D Choice Act – soon to be reintroduced in the House by U.S. Rep. Earl Blumenauer (D-OR-3) and in the Senate by Sens. Tom Carper (D-DE) and Bill Cassidy, MD (R-LA).
A recent New York Times article reported that PACE is succeeding in allowing older Americans to age in place. PACE empowers older adults and people with disabilities to live at home and in their communities despite being eligible for nursing home care. PACE participants receive care and services such as primary care, long-term care services and supports (LTSS), medications, therapies, behavioral health, meals and socialization in their homes and at their local PACE center. All of their health care, nutrition, transportation and other needs are identified in an individualized care plan set up and executed by a dedicated interdisciplinary team.
#
The National PACE Association (NPA) works to advance the efforts of PACE programs, which coordinate and provide preventive, primary, acute and long-term care services so older individuals can continue living in the community. The PACE model of care is centered on the belief that it is better for the well-being of seniors with chronic care needs and their families to be served in the community whenever possible. For more information, visit www.NPAonline.org and follow @TweetNPA.
Contact: 
David Harrison 
david@harrisoncommunications.net 
410-804-1728